Dhoni Fishing Safari
has been a popular GT fishing method for over a decade in Maldives. In fact, it was Only Way till we launched our Speedboat into GT fishing in Maldives. During the high season from November to March, our Dhoni
Hariyana
is 100% booked; this is how popular it is.
Fishing from Sun Rise to Sun Set, bottomfishing at night, Full Board with plenty of drinks (Dhoni is considered as "Resort" so alchol drinks are allowed), party with you friends up to 10-12 on board, Fishing Safari on Dhoni has own ways of fun and luxuary. If you have 6-10 pax, per person cost becomes very reasonable that is another advantage!
Dhoni has its disadvantage also that speed is only up to 9 knot so that coverage everyday can be very small. For example, it takes over 3.5 hours from Male to Rasdhoo Atoll to transport by Hariyana (faster than some other dhonis, by the way), while speedboat can be there in 30-45 minutes. Approach to the point can be not so delicate as its big body and speed so that fishermen may often face strong winds against while speedboat can easily go to the head of wind in a minute or two and distance to the pin-point to cast, you can very carefully navigate in details.
Fishing safari can be some good family vacation also. Every year we receive some nice family with kids to charter Hariyana for a week or weeks to go around Maldives for different atolls. Fishing, Surfing, Diving, you can do it all.
Speedboat, on the other hand, has its own limitations as well. Petro consumption is so unbelivable. Last customers in Gaafu Dhaalu Atoll daily consumed 300 litters a day! Now gas price is about 1.3 USD per litter. You do the mass and find out how expensive that gets. We usually do within 150 litters or less to cover quite large area. You can still choose to run so fast like dring over 250km/hr on highway with your sports car that consumes your gas more than twice for the same distance, right?! Another limitation is the size. Size is ideal but limit the number of fishermen. 2-3 is the best comfort. 1 seems a bit too spoilt. 4 is tight but possible. 5 - need to take turn. This is our experience with 32ft Magic Life speedboat.
After we have operated our operation as GT Fishers Maldives to mainly market and introduce our superior services to the market for a year now, we are receiving new types of interests. 4-8 days of bundle fishing trip between Dhoni Hariyana and Speedboat Magic Life. The idea is to take the advantages of both worlds. Have 6-8 fishermen make group and travel with Dhoni for 4-8 days around different atolls. 3-4 people take turn for taking speedboat while the rest fish from mother boat of Dhoni. At the end of the day, come back to dhoni to party over dinner and drink then sleep, or fish at night also. This way, per person cost is very resonable and you can cover large areas and differnet atolls. Speedboat will not spend as much gas as it needs not go back to the same resort/guesthouse but moving mother boat; usually dhoni follow the speedboat and catch up by the end of each day while speedboat approaches different points around the new areas and destination. If between Atoll channel, Dhoni can transport during the night so that morning you can fish in new atoll as soon as sun rises.
Some interesting fact I have learned: why 4-8 days - so different. It is chracteristics of nationality. European fishermen tend to be very savvy with budget while taking many days for holiday to enjoy long fishing vacation. On the other hand, Japanese fishermen working in corporations have hard time taking long holidays so that most common vacation journey is 6 days; 2 days for travel and 4 days of fishing. If you think carefully, it makes very little sense that if you take 6 days vacation including 2 day weekend .... -- if you take one more day of paid vacation then you can streatch your vacation for 9 days, from one weekend starting on Saturday to next weekend's Sunday. However, it is cultural behavior that Japanese feel inplicit pressure not to take vacation more than a week. If you are gone over one entire week, there is no place for you to come back to in your work and company! Practically 1 business day should not matter like that unless some peak time that you would not take any vacation to begin with. Well what can I say, it is the way it is. Living in Japan myself for a while and do not care for such while surviving,. I cannot change the behavior of 130 million other people living there. It is not so related to fishing but thought worth sharing for just interesting fact. Europeans are much more practical and pragmatic that all Japanese respect and envy!!
Another intereting fact I have learned about Maldives is that most of owners of Dhonis are all from
Kurendhoo
- Eastern region of Lhaviyani Atoll. GT Fishers Maldives Partner Hameed and Captain Mohamed are both from Kurendhoo also. So if you see other Dhoni in port or sea, we definitely know who own and work in those dhonis. They are either family or friends from neighbors. So if we run out of ice or drinks (or beer?!), we can just ask our friends in Dhoni to share with us! We are very friendly people and know everyone!
Anyway,
Hariyana
just completed Full Renovation last November for this high season! Looking good, right?!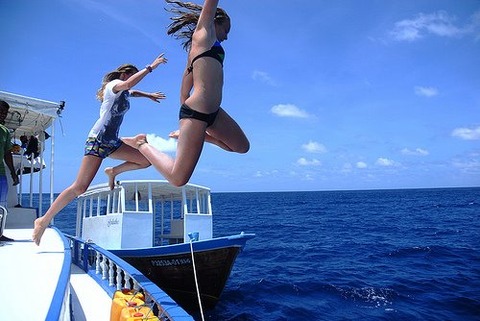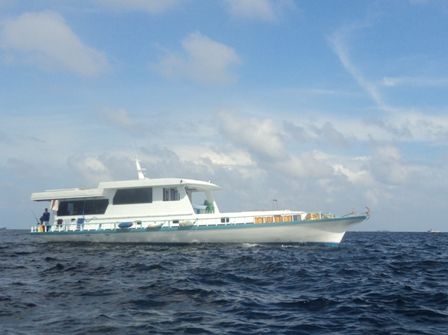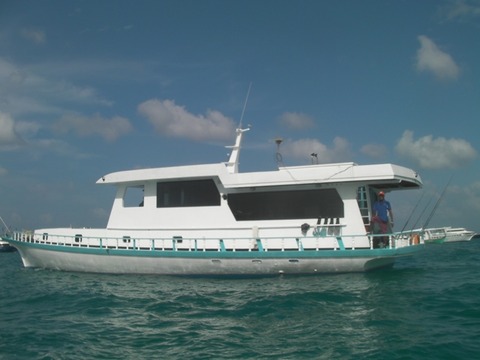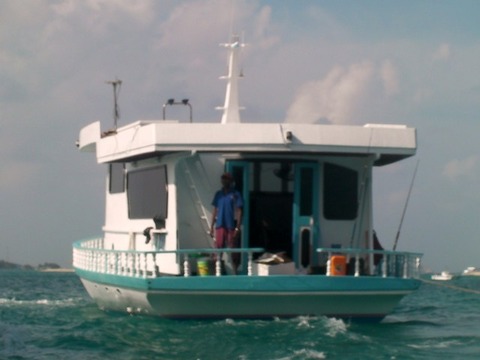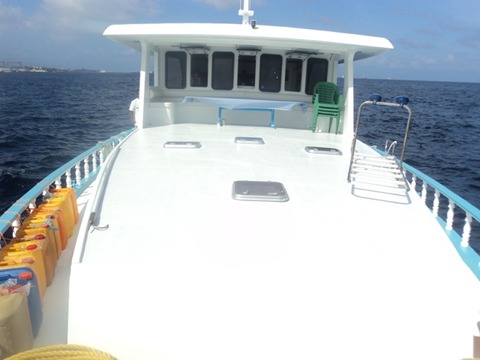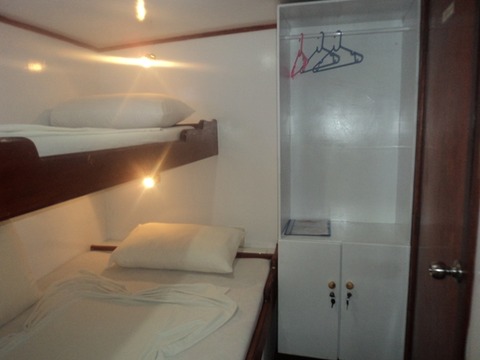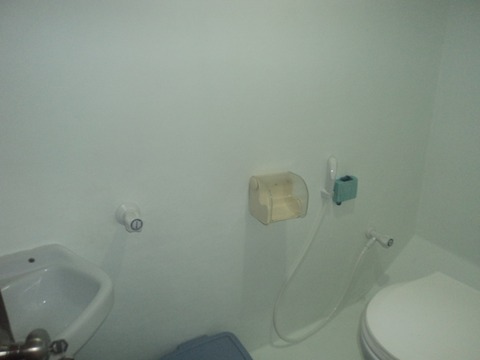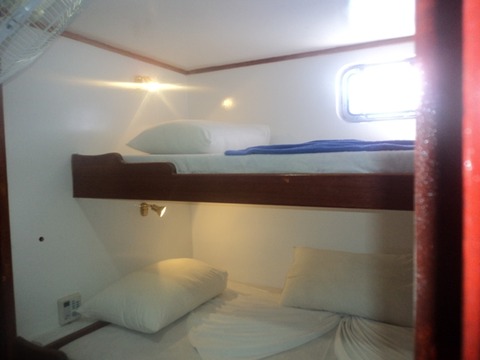 Family Vacation!